What is Sea Buckthorn?
You must be asking what in the world is sea buckthorn and why should I care about it? Sea buckthorn, ironically, is not found in the sea. It is a small yellow-orange berry grown on a shrub found in coastal and mountainous regions of Asia (Himalayas) and Europe. Sea buckthorn oil has been used for thousands of years as a natural remedy against various ailments. It is mentioned in ancient Tibetan texts, but also in Ancient Greek Mythology, as well as the Indian Materia Medica and early Chinese formularies for its medicinal properties. Today you will find it in an array of natural skin care and beauty products for both the face and body.
Healthcare First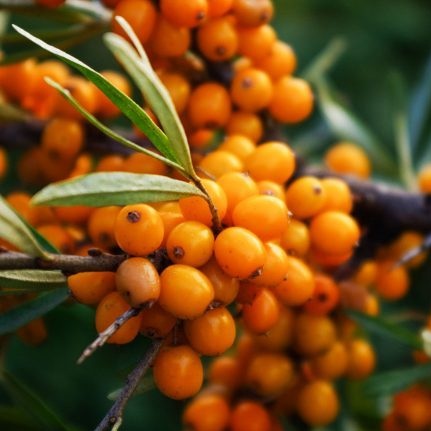 The juice that is made from these berries is sweet and delicious and will help to heal your body from the inside out. Sea buckthorn's anti-inflammatory properties help to reduce internal inflammation and its antioxidants and nutrients will help to reduce the risk of disease by fighting off free radicals. Sea buckthorn contains 190 nutrients and phytonutrients! Its vitamin C concentrations are 12 times higher than that of an orange. More than half of the fat found in sea buckthorn oil is mono- and polyunsaturated fat, which are two types of healthy fats. Fatty acids are also great for healthy, clear, and glowing skin and sea buckthorn is rich in omega 3, 6, and 9. It's also the only plant source on the planet that contains the elusive omega 7. The two most common omega-7 fatty acids in nature are palmitoleic acid and vaccenic acid. They are widely used in cosmetics due to their moisturizing properties.
Sea buckthorn also contains vitamins B1, B2, K, C, A, and E, folic acid, a large variety of powerful antioxidants and minerals. The seeds and leaves are also particularly rich in quercetin, a flavonoid linked to lower blood pressure and a reduced risk of heart disease. Sea buckthorn oil may aid your heart by:
Reducing blood pressure. One study found that taking 0.75 ml of sea buckthorn oil daily for 30 days helped reduce blood pressure levels in people with high blood pressure.

Improving blood cholesterol levels. This same study found that levels of triglycerides, as well as total and "bad" LDL cholesterol, also dropped in those who had high cholesterol.

Protecting against blood clots. Another study found that after consuming 5g of sea buckthorn oil or coconut oil per day for four weeks, the sea buckthorn group had significantly lower markers of blood clots. Note that this study was only conducted in men.
Sea buckthorn may help improve insulin secretion and insulin sensitivity, both of which could protect against type 2 diabetes but more research is needed. The flavonoids and antioxidants may also help your body fight infections. Sea buckthorn may offer an array of additional health benefits, ranging from reduced inflammation to menopause treatment. However, more studies, especially in humans, are needed.
Skincare Second
Sea buckthorn is commonly used in the oil form in modern cosmetics. There are two types of oil that can be extracted from the sea buckthorn shrub, namely fruit oil and seed oil. The fruit oil (dark red or orange-red color) is derived from the fleshy pulp of the berries, while the seed oil (paler yellow or orange in color and more fluid) is extracted from the small dark seeds of the small nutrient rich orange-yellow berries that grow on the shrub. The seed oil contains omega 3 and 6 in an almost perfect ratio along with omega 9 and is better suited for dry and mature skin. The fruit oil contains omega 6 and the highly sought after omega 7, brilliant for aiding in skin repair and regeneration, making this oil ideal for problem skin. The oil is also potent in carotenoids like beta carotene and phytosterols that reduce redness and help heal mucous membranes.
Acne suffers rejoice! Here is an oil you can get behind. Sea buckthorn fruit oil is excellent for reducing acne breakouts, because it signals the oil glands to stop creating excess amounts of sebum. It will reduce inflammation in the skin, prevent future flare ups, help to fade scars and promote an overall more even and smoother skin texture. It will heal your acne breakouts without over drying the skin.
Is it the fountain of youth? Maybe! Sea buckthorn seed oil repairs oxidative damage (from sun and environmental exposure) and has great anti-aging properties. It hydrates the skin and promotes the formation of collagen, a structural protein essential for youthful skin. Collagen helps to plump the skin and prevent sagging, smoothing out fine lines and wrinkles.
With regular use, you will have noticeably brighter, plumper, smoother skin. A good way to use it is to add a drop or two of sea buckthorn fruit oil to products we are already using daily; preferably at night, after application of water-based treatments. Note that the oil used alone may stain skin.
Commercially Available Skincare Products
The Ordinary. 100% Organic Virgin Sea Buckthorn Fruit Oil

KORA Organics Noni Glow Face Oil: facial oil combines Sea Buckthorn with Noni Extract, Rosehip Oil and Pomegranate Oil to create a rich source of essential fatty acids and powerful antioxidants

Weleda Sea Buckthorn Body Oil: Sea Buckthorn Oil in a base of lightweight Sesame Oil. Note, you should NOT use this oil on your face if you have oily or acne-prone skin. Sesame oil has slightly more oleic acid than linoleic acid and could cause breakouts.
References:
https://www.healthline.com/nutrition/sea-buckthorn-oil

S. Saggu, H.M. Divekar, V. Gupta, R.C. Sawhney, P.K. Banerjee, R. Kumar, Adaptogenic and safety evaluation of seabuckthorn (Hippophae rhamnoides) leaf extract: A dose dependent study, Food and Chemical Toxicology, Volume 45, Issue 4, 2007, Pages 609-617, ISSN 0278-6915, https://doi.org/10.1016/j.fct.2006.10.008.

Giuffrida, D. , Pintea, A. , Dugo, P. , Torre, G. , Pop, R. M. and Mondello, L. (2012), Determination of Carotenoids and their Esters in Fruits of Sea Buckthorn (Hippophae rhamnoides L.) by HPLC‐DAD‐APCI‐MS. Phytochem. Anal., 23: 267-273. doi:10.1002/pca.1353

Kruczek M, Swiderski A, Mech-Nowak A, Król K., Antioxidant capacity of crude extracts containing carotenoids from the berries of various cultivars of Sea buckthorn (Hippophae rhamnoides L.). Acta Biochim Pol. 2012;59(1):135-7. Epub 2012 Mar 17.

Krejcarová, Jana & Straková, Eva & Suchý, Pavel & Herzig, Ivan & Karásková, Kateřina. (2015). Sea buckthorn (Hippophae rhamnoides L.) as a potential source of nutraceutics and its therapeutic possibilities - A review. Acta Veterinaria Brno. 84. 257-268. 10.2754/avb201584030257.

Francisco Perez-Vizcaino, Juan Duarte, Flavonols and cardiovascular disease, Molecular Aspects of Medicine, Volume 31, Issue 6, 2010, Pages 478-494, ISSN 0098-2997, https://doi.org/10.1016/j.mam.2010.09.002.

Larson, Abigail J et al. "Therapeutic potential of quercetin to decrease blood pressure: review of efficacy and mechanisms." Advances in nutrition (Bethesda, Md.) vol. 3,1 (2012): 39-46. doi:10.3945/an.111.001271

Gutzeit, D., Mönch, S., Jerz, G. et al. Anal Bioanal Chem (2008) 391: 211. https://doi.org/10.1007/s00216-008-1905-3

Gutzeit D1, Klaubert B, Rychlik M, Winterhalter P, Jerz G., Effects of processing and of storage on the stability of pantothenic acid in sea buckthorn products (Hippophaë rhamnoides L. ssp. rhamnoides) assessed by stable isotope dilution assay., J Agric Food Chem. 2007 May 16;55(10):3978-84. Epub 2007 Apr 21.

Christaki, Efterpi. (2012). Hippophae Rhamnoides L. (Sea Buckthorn): a Potential Source of Nutraceuticals. Food and Public Health. 2. 69-72. 10.5923/j.fph.20120203.02.

Patel, Chirag A et al. "Remedial Prospective of Hippophae rhamnoides Linn. (Sea Buckthorn)." ISRN pharmacology vol. 2012 (2012): 436857. doi:10.5402/2012/436857

Vivek Vashishtha, Kalpana Barhwal, Ashish Kumar, Sunil Kumar Hota, Om Prakash Chaurasia, Bhuvnesh Kumar, Effect of seabuckthorn seed oil in reducing cardiovascular risk factors: A longitudinal controlled trial on hypertensive subjects, Clinical Nutrition, Volume 36, Issue 5, 2017, Pages 1231-1238, ISSN 0261-5614, https://doi.org/10.1016/j.clnu.2016.07.013.

Anu K Johansson, Helena Korte, Baoru Yang, John C Stanley, Heikki P Kallio, Sea buckthorn berry oil inhibits platelet aggregation, The Journal of Nutritional Biochemistry, Volume 11, Issue 10, 2000, Pages 491-495, ISSN 0955-2863, https://doi.org/10.1016/S0955-2863(00)00105-4.

Hwang IS, Kim JE, Choi SI, Lee HR, Lee YJ, Jang MJ, Son HJ, Lee HS, Oh CH, Kim BH, Lee SH, Hwang DY., UV radiation-induced skin aging in hairless mice is effectively prevented by oral intake of sea buckthorn (Hippophae rhamnoides L.) fruit blend for 6 weeks through MMP suppression and increase of SOD activity., Int J Mol Med. 2012 Aug;30(2):392-400. doi: 10.3892/ijmm.2012.1011. Epub 2012 May 24. https://doi.org/10.3892/ijmm.2012.1011

Puertollano MA1, Puertollano E, de Cienfuegos GÁ, de Pablo MA., Dietary antioxidants: immunity and host defense., Curr Top Med Chem. 2011;11(14):1752-66.

https://www.apoterra.com/blogs/getinspired/sea-buckthorn-for-your-skin

https://www.organictogreen.com/blogs/beauty-tips/57972355-benefits-of-sea-buckthorn-berry-oil-for-skin

https://www.nourishedlife.com.au/article/1316871/benefits-of-sea-buckthorn-for-skin.html

https://www.annmariegianni.com/oils-for-clogged-pores/?cn-reloaded=1