Food-based Beauty: It's a Thing!
This year we are seeing a significant increase in food-based beauty and we are totally here for it! If it is safe enough to eat then nine times out of ten it is safe for you to apply on your skin and/or in your hair. In some ways the natural hair care industry was ahead of the curve using food-based ingredients in hair care products; both in commercially available products and widely used DIYs.
In our opinion the DIY hair care QUEEN is Naptural85. From flax seed gels to sweet potato deep conditioners, she has a solution for just about anything. As a bonus, for those of you who just don't have time for that, she even has her own hair care line and reviews of other commercially available products that have become our personal faves. Using just any food in your hair isn't a good idea. You have to do your homework on the benefits associated with your food item of interest and how it may or may not fit with your personal hair care needs.
Top 5 favorite food ingredients for healthy hair:
Avocado: The proteins, amino acids, and vitamins soothe and moisturize the scalp and promote hair growth. Like coconut oil, avocado oil is one of the few oils that can penetrate the hair cuticle lubricating the follicle from the inside out. Give these avocado DIYs a try and let us know what you think.

Banana: Most people already know that bananas are an excellent source of potassium. One banana can give you 23% of the potassium that you need on a daily basis! Your hair loves potassium because it's great for strengthening and thickening fine hair. Did you know that bananas are also high in Vitamin B6, Vitamin C, dietary fiber, and magnesium? The potassium, natural oils, carbohydrates and vitamins in bananas help soften the hair and protect the hair's natural elasticity, preventing split ends and breakage. Check out our Go Bananas! In the Kitchen post for some great DIY hair and skin masks.

Manuka Honey: Honey is a natural antibacterial (fights bacteria) and humectant (locks in moisture). Manuka honey gives you all the antibacterial benefits without the drawbacks associated with the cosmetic application of hydrogen peroxide products. It also happens to be the main ingredient in the Shea Moisture Manuka Honey and Mafura Oil line of naturally derived haircare products. The hair mask leaves your hair silky soft and shiny. Check out our In the Kitchen post on some DIY applications of honey that will leave your hair and skin saying thank you for days.

Yogurt: Yogurt can accelerate growth in slow growing hair. The protein content in yogurt provides nourishes and strengthens the hair without making it dull or dry. The zinc and lactic acid in yogurt also also stimulates blood circulation. It's anti-fungal and antibacterial properties allows it to be a great natural cleanser that soothes the scalp and reduces itchiness. the Shea Moisture Manuka Honey & Yogurt Hydrate + Repair Protein-Power Treatment gives you the benefits of both manuka honey and yogurt to strengthen and protect dry brittle hair. We aren't leaving our DIYers hanging, our More Yogurt Please! In the Kitchen post has our favorite hair and skin care masks.

Sweet Potato: Sweet potato is the perfect inside-out beauty ingredient because you need to both injest and apply it topically to maximize its hair care benefits. They are a great source of beta-carotene. The body converts this compound into vitamin A, which is linked to good hair health. Research has shown that vitamin A promotes the production of sebum, which helps keep hair healthy. Vitamin A could also speed up the rate of hair growth and encourage the growth of thicker hair, all while preventing other hair follicles from regressing. The Omega-3 fatty acids add luster by nourishing your hair follicles. Check out this DIY hair mask from Naptural85. Still not enough? Then here are a few more from our In the Kitchen blog.

Fatty Oils: Sometimes all you need is an old school hot oil treatment! We like to use high fat super emollient oils like, castor oil, extra virgin olive oil, coconut oil, and/or avocado oil. Fatty oils are high in fatty acids, an organic acid molecule consisting of a chain of carbon molecules and a carboxylic acid (-COOH) group. The three types of fatty acids are saturated, monounsaturated, and polyunsaturated. Consuming fatty acids can help promote hair growth, add shine, and relieve a dry scalp. Applying them as a pre-poo or hot oil treatment, with long-term use, has the same effect. Remember that oils do not hydrate your hair! They lock in and/or help your hair retain moisture. So if your hair is feeling parched do not slap on an oil, dunk it in some water.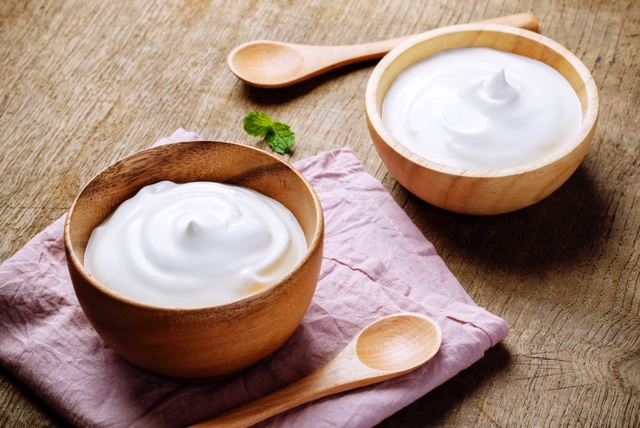 Almost all of the ingredients above can also be used for DIY skincare and can now be found in commercially available skin care products. We have found that commercially produced food-based skincare is still relatively new in the U.S. but has been very common in Asian markets for many years. So we are very excited to see brands like Glow Recipe and Farsali, to name a few, bringing them into the western mainstream. The past few years there has been a boon in our old favorites, turmeric and matcha, as well as introductions to new favorites like pineapple and watermelon. Check out the skincare benefits of these ingredients and more below.
Top 5 favorite food ingredients for healthy skin: